Resources
The University of Rochester welcomes the Flash Center for Computational Science
Jan 18, 2022. News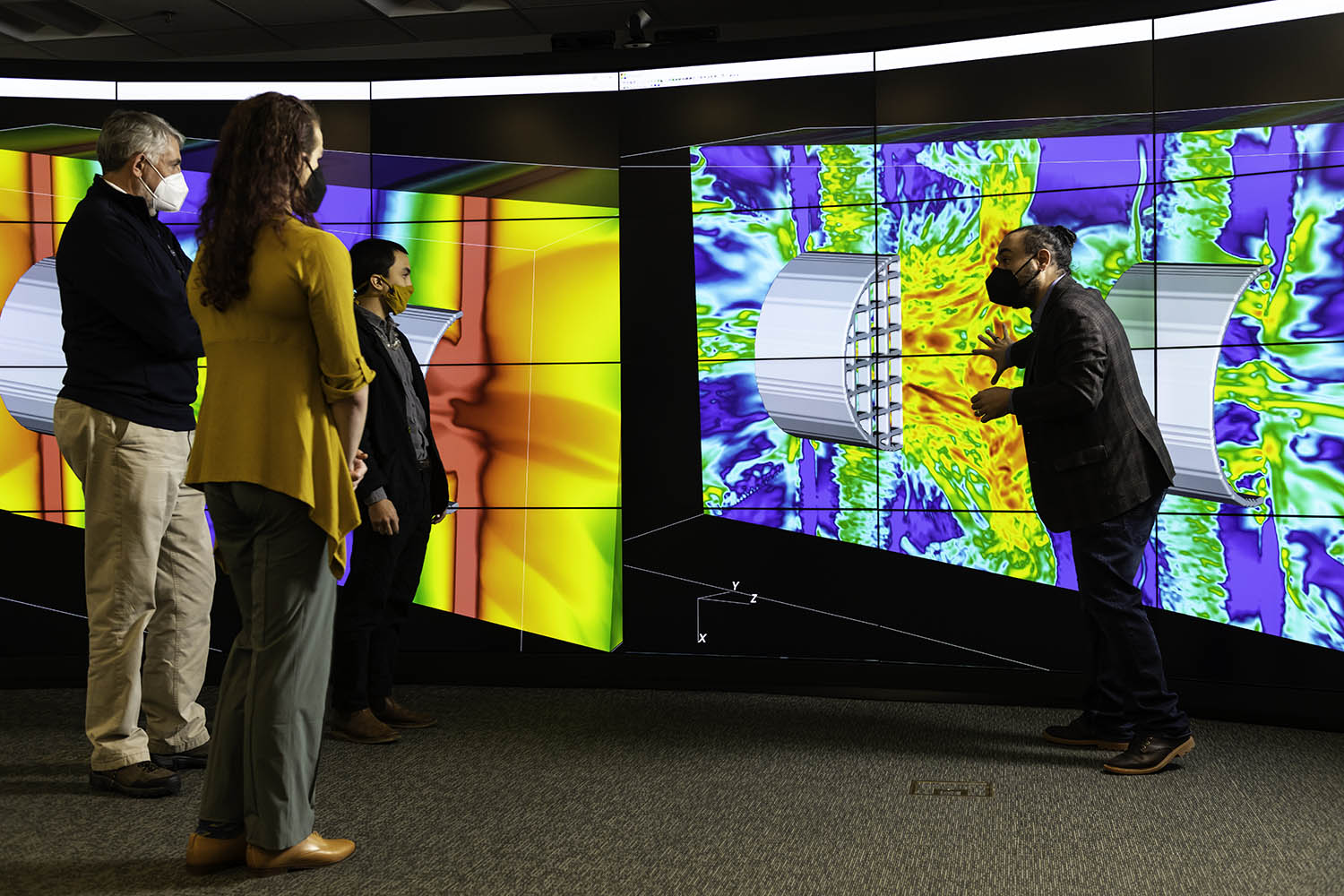 Petros Tzeferacos (R), Associate Professor of Physics and Astronomy, Senior Scientist at the Laboratory for Laser Energetics (LLE) and Director, Flash Center for Computational Science, explains FLASH simulations of laser-driven experiments that study fluctuation dynamo in turbulent magnetized plasmas in the Omega laser facility at LLE to LLE deputy director Chris Deeney (L), Flash Center research scientist Adam Reyes (2R), and Flash Center Graduate Research Assistant and Horton Fellow Abigail Armstrong (2L) at the VISTA Collaboratory at University of Rochester's Carlson Library January 14, 2022. (University of Rochester photo/J. Adam Fenster)
The Flash Center is home to several cross-disciplinary computational physics research projects, anchored by the development and stewardship of the FLASH code, the publicly available high-performance computing, multi-physics simulation code that the center will continue to distribute from the University of Rochester. FLASH, developed under the auspices of the U.S. Department of Energy (DOE) National Nuclear Security Administration (NNSA) Advanced Simulation and Computing (ASC) Program, is employed by a wide international userbase, more than 3,500 scientists strong, for modeling and simulation in a broad range of application domains that span from plasma physics and astrophysics to computational fluid dynamics, high energy density physics (HEDP), and fusion energy research.
"We are thrilled to have the Flash Center and the FLASH code join the University of Rochester research enterprise and family and we want to thank the University of Chicago for working hand in hand with us to facilitate this transfer," said Stephen Dewhurst, acting Vice President for Research of the University of Rochester. "I couldn't agree more," added Steven Manly, Chair of the Physics and Astronomy Department of the University of Rochester. "The Flash Center is an excellent fit in our department's research and education undertakings."
The move of the center follows the recent hires of Flash Center personnel, as well as the center's director, Petros Tzeferacos, who joined the faculty of the University of Rochester as Associate Professor of Physics and Astronomy and Senior Scientist at the Laboratory for Laser Energetics (LLE).
See the full article.